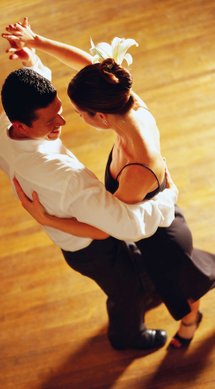 Held at St James Institute, 33a Stourfield Road, Southbourne, Bournemouth BH5 2AR
DURING COVID 19 LOCKDOWN ONLINE CLASSES ARE AVAILABLE ON ZOOM

Courses
MLC Dance offers courses covering Ballroom ,Latin American & Popular Sequence.
The Beginners courses are held over four weeks and cover two dances. These are held on a Monday evening & Wednesday lunchtime
Foundation Course Monday 7.45-8.30 pm & Wednesday 12-12.45pm
Designed for the complete beginner to learn the basic steps.
Next Steps Course Monday 8.30-9.15pm
For those who have mastered the basic steps of the Foundation Course & wish to develop their style & steps further.
Variations Course Monday 7-7.45pm
Designed for the more experienced dancer, exciting variations taught over the four weeks.
Popular Sequence Course Tuesday 7-7.45pm
This course is ideal for those with a basic knowledge of Ballroom & Latin American who want to learn the popular sequence dances that are played out and about at social evenings & tea dances.
Pre-booking is recommended to avoid disappointment as these courses are very popular.
Course of four weeks, £24 per person, payable on week one (non refundable).
Please advise if you are intending to come along on your own so that a suitable partner can be arranged.
See the News Page to keep up to date with courses start dates and dances covered.
MLC Dance also holds twice monthy Social Dances held on a Tueday Evening 7.45-9.15pm.
Please check the News Page for the dates .
Private lessons
Private lessons are great way to consolidate what you have learnt in a class to improve your technique and confidence.Many pupils go on to enter examinations with The Imperial Society of Teachers of Dancing (ISTD) and MLC Dance has an exemplary record of results.
Lessons can be taken in half hour ,or hour slots.
24 hours notice of cancellation is required otherwise full fee is payable.
Available on;
Monday: Mornings & Early Evenings
Tuesday: Early Evenings
Wednesday: Mornings
Friday: Mornings
Please contact Michelle to book your lesson.
Gift vouchers available to purchase that can be used for classes,courses or private lessons.